About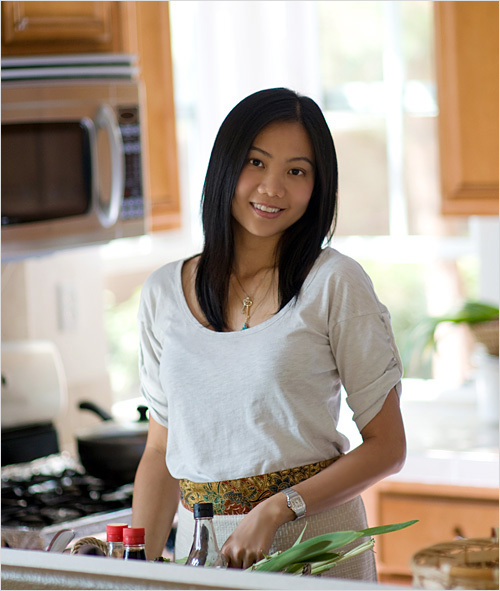 (Click here to read all about Nyonya Food and its introduction, origin, and history).
Nyonya Food is a new website authored by Bee Yinn Low of the hugely successful Rasa Malaysia. With collaboration of my family members—aunt, sister, and sister-in-law—Nyonya food is a website dedicated to Nyonya cuisine, culture, and traditions. It's also a place my family and I document all precious Nyonya recipes passed down from our late grandmother—recipes and foods that grace many family celebrations, festivities, occasions that so often conjure sweet and nostalgic memories. Nyonya food is a native cuisine of mine; it is the food of my childhood.
Growing up with my late grandmother—a fantastic Nyonya cook and famed kuih maker of her time—I savored many delicious Nyonya dishes and learned the ropes of making Nyonya food by spending a lot of times in my grandmother's kitchen. I was introduced to traditional Nyonya kitchen utensils and tools such as batu giling (the stone slab used for grinding spices or "rempah"), wooden coconut grater, various Nyonya kuih molds, pots and pans. Nyonya recipes are also passed down to the women in my family as the cooking process is an intimate family affair where everyone contributes to the kitchen chores of prepping and cooking. Cooking Nyonya food is always a fun-filled and satisfying experience.
I wish to keep Nyonya culture, cuisine, heritage, and tradition alive with this site. Most importantly, I wanted the world to learn more about the beautiful Nyonya food or Straits Chinese cuisine through my family's Nyonya recipes. Recipes will be contributed by my family—mostly my sister-in-law—and yours truly. As I reside in the United States, a lot of Nyonya ingredients are not available so the best and most authentic recipes will come from my family's kitchen in Penang, Malaysia. Also, the recipes will be written in metric units and measurement for general references. If you are in the United States, kindly use the "Converter" tool on the right navigation bar.
This website is dedicated to my late grandmother and my late parents whom we love and miss dearly. It's also a tribute to my aunt, a fantastic Nyonya food and kuih master whose cooking skills only improves with time.
If you are of a Peranakan or Baba-Nyonya descent, I would like to hear from you: where you are, your favorite dishes and recipes, or any tales and anecdotes that you wish to share. I would also like to learn more about Nyonya food in Melaka and Singapore and to appreciate and understand the differences.
If this is the first time you've heard of Nyonya food and can't even begin to pronounce or remember the word, just think of it as N-Y-O N-Y-A Food.
N-Y-O N-Y-A, pronounced as non-ya.

Thank you for visiting Nyonya Food and we look forward to hearing from you!